Nothing in our back yard grows quite as fast as bamboo that crept into a back corner from a neighbor's yard. So, living in Mississippi where bamboo can really take off, it was fascinating to find that a Jackson man has formed a company aimed at growing bamboo here for commercial sale.
Here's the release…
Southern Bamboo, which incorporated in 2010, is now harvesting American bamboo groves for domestic supply. This start-up company based in Jackson, Mississippi, aims to be the largest all-American bamboo supplier of bamboo poles for landscaping, interior design and other bamboo-related products.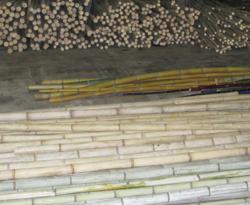 Currently, the global bamboo industry generates $10 billion annually. The United States imports nearly 20% of this supply, making the U.S. the number-one importer of bamboo, according to one estimate. This is mainly because there are no domestic suppliers to the bamboo industry, says Tom Thomsen, president and founder of Southern Bamboo. The company, he adds, is changing that by providing quality bamboo pole products harvested in American bamboo groves.
Thomsen attended a bamboo conference in Stoneville, Mississippi in 2008. There, he met bamboo distributors from all over the United States who wanted to raise awareness about the South's ability to grow bamboo.
"Mississippi, in particular, has a unique opportunity to usher in a new cash crop to economically devastated and ag-reliant communities in the U.S.," Thomsen says. After nearly 4 years of research and development, Southern Bamboo was formed.
"With the decline of the cotton and catfish industries, farmers are desperate for a new cash crop. Bamboo offers an amazing alternative to current agriculture based supply chains, and Southern Bamboo is in a prime position to lead the charge," Thomsen continues.
An amazing plant in and of itself, bamboo sequesters four times the amount of carbon dioxide and produces 35% more oxygen than trees, thanks to its rapid growth, Thomsen points out. In addition, bamboo can be processed and manufactured into paper, flooring, fencing, fabrics, textiles, ethanol and much more. Raw bamboo is being processed for its viscose, an organic liquid used to make rayon and cellophane.
Currently, Southern Bamboo offers a wide variety of decorative and timber bamboo poles for interior design and landscaping purposes. Through partnerships with other distributors, Southern Bamboo's product line has expanded to include fencing and flooring products, Thomsen says.